Game for iPhone, iPad, and Droid!
Drop Drops is an exciting new take on an old game, available for the iPad®, iPhone®, iPod touch®, and numerious Android® devices. Touch groups of like colored drops to remove them. Get more points for bigger groups. More drops rain down as the game progresses. When there are no more groups, the game is over.
Play the boards again and again--try to increase your score! Everyone plays the exact same boards--see if you can beat your friends' high scores. Trying to beat your own high score becomes a challenge and is quite addicting.
Simple, yet fun for all. Great for families, either as a pass-and-play game trying to beat each other's scores on a board, or with multiple mobile devices everyone can play the same board at the same time. Even the young-uns can play, it's easy.
Honors

Rated 4/5 by Famigo "the Best App Resource for Families" Recommended for Kids, Teens, Toddlers, and Tweens.
Get it for Apple Devices!


Available from the App Store℠
Free Download!
First 10 boards come with the app.
More boards available via in-app purchase.
Get it for Android devices!


Available from Amazon.com
Video
(Video not showing? Watch it here.)
Screenshots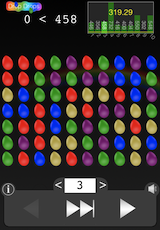 Features
Social Sharing! Send a note to encourge others to beat your best.
Full undo/redo on all boards.
Undo works even after the final move!
The same board can be replayed again to try for higher scores.
Everyone plays the exact same boards...compare scores with others.
Board high scores remembered, and plotted.
Sound effects only (no music), with full volume control right on the front.
Remembers where you left off, including move history and volume levels.
Shows each move during undo/redo.
A Single tap removes groups of drops (easy for all ages).
Touch and hold a group of drops to see the potential score.
Pleasing animated effects.
Move to next or previous board, or jump directly to any board number.
Credits
Developed with Corona Lab's Corona development system.
Graphics designed with Pixlemator.
Graphics designed with The GNU Image Manipulation Program.
Sound designed with GarageBand.
Sound edited with Audacity.
'GoodDog' font by Fonthead
Web hosting by Google Apps.
Screen Shot slide show by Slideshow.
Graphics assistance from Alex Spitzer.
Quality Testing by Eric Spitzer.
Made on a Mac.
Made on Linux.
Version 1.0 in honor of "Elsh" on her birthday!.
Version 1.1 in honor of Alex on his birthday!.
Version 1.8 in memory of Knight.
Privacy
Find the Privacy Policy for
"Drop Drops" here.
Apple, iPad, iPhone, iPod touch, and iTunes are trademarks of Apple Inc., registered in the U.S. and other countries. App Store is a service mark of Apple Inc. Nook Color is a trademark of Barnes & Nobel